A Little Background about our Project
Our Mission: to preserve the rural heritage of Madison County and surrounding areas through the documentation of the historical barn building traditions and the barns they represent.
The ABA is registered to solicit donations in the state of NC. "Financial information about this organization and a copy of its license are available from the State Solicitation Licensing Branch at 888‐830‐4989. The license is not an endorsement by the State". Contact us for information about other states.

UPCOMING EVENTS:
RE-INVENTED GUIDED BARN TOURS: You pick a date. You drive your own car safely, socially-distanced from the tour guide. Same 3 hour-length for $45. Just call to arrange a date. 828 380-9146 or email info@appalachianbarns.org
FEBRUARY 14, 2021: The launch of our inaugural "We Love Barns!" Virtual Tour of the Anderson Farmstead led by Researcher/ Barn Historian Taylor Barnhill. Watch for details.
Madison County, North Carolina, has a rich agricultural history. The county's place in the production of burley tobacco is well known, but there are other ways to explore and record our agricultural history. One of the most interesting ways to do this is to tell the stories of the barns and outbuildings scattered throughout the county. Learn more about the beginning of our organization and the people who are working to save this history.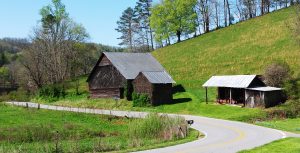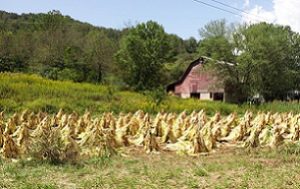 From the time when in 2012 the Appalachian Barn Alliance was just the beginning of an idea put forth by Ross Young (Director of the Madison County Cooperative Extension) until the ABA was well established, we are often asked "What does the Barn Alliance do?" For an overview of the history of the Appalachian style barns and what the ABA is doing to document them, please view the 25-minute presentation via Zoom by the ABA researcher/ historian Taylor Barnhill in 2020. You can also listen to his two part radio interviews below. Welcome to the world of barn lovers!
Listen to Part #1 of an interview (from wART streaming radio) with Taylor Barnhill about Historic Barns

Listen to Part #2 of an interview (from wART streaming radio) with Taylor Barnhill about the Tobacco Barns

How You Can Help
Join our efforts. Email us at info@appalachianbarns.org or call (828) 380-9146
Become a member. The donation levels are $20 for Individual, $30 for Family, $50 for Friend, $100 for Patron (or Business Supporter), $200 for Benefactor, $500 for Super Supporter (free barn tour for 2), and $1000 for President's Circle (free barn tour for 8). Mail your check with your address and email information to ABA, PO Box 1441, Mars Hill, NC 28754
Make a contribution to the Appalachian Barn Alliance (Mail to PO Box 1441, Mars Hill, NC 28754)
Provide us with information about your historic barn in Madison County. Email info@appalachianbarns.org or call (828) 380-9146
Cutting Boards & Napkin Rings & Appalachian Butter Knives made from Tobacco Sticks FOR SALE