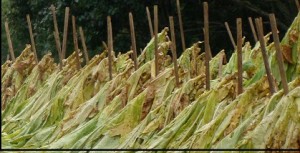 Chuck Blethen had a huge pile of tobacco sticks in the barn on the property that he and his wife Jeannie purchased. Of course, the sticks had an important use when the previous owner grew tobacco in the field. They held the leaves in one of the stages of growing in the field. Now, however, they only held a space in the barn.
When Jeannie joined the Board of the Appalachian Barn Alliance, Chuck decided to put his woodworking skills to use by making use of those tobacco sticks and helping out the cause. Chuck worked on a process to transform the sticks into three different objects for sale: a cutting board, cheese board, or an Appalachian Butter knife (spread butter, peanut butter, or soft cheese).
The items are available by contacting us by email (info@appalachianbarns.org), by phoning Sandy at 828 380-9146. They make great gifts with a story behind their manufacture. The ABA is based in Mars Hill, NC, and you can arrange for pickup or pay for mailing). Just call and we can set up whatever method you wish.