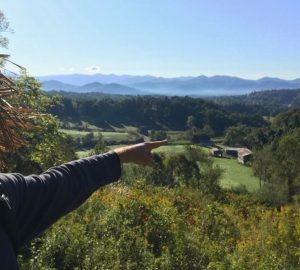 Just 5 minutes from the center of the town of Mars Hill, North Carolina (20 minutes north of Asheville), step back in time to experience a unique combination of cultural heritage and natural heritage. The 8-acre Smith Farm Heritage Farmstead at 889 Forest Street serves as a welcoming entrance and public park to the other 78 acres where there is a hiking path leading up Bailey Mountain. The Bailey Mountain Preserve is a testament to the biodiversity of the southern Appalachian area. The land is being preserved and developed to display native plants & trees and encourage native insects, birds, and animals to make their homes there. The entire area is open to the public free of charge. Whether you like hiking or just being outdoors, history, or architecture, plan to spend some time here. And, come back often to see how the land and the barns develop over the years.
THE FARMSTEAD AND THE BARNS
The Lower Smith Farm Farmstead is part of the land acquired in 2019 by the town of Mars Hill. And a local non-profit organization –The Appalachian Barn Alliance (ABA) — has taken on the role of helping to develop the cultural heritage angle by focusing on the barns on the property. (CLICK TO LEARN MORE ABOUT THE ROLE OF THE ABA) The public is invited to watch the growth of the idea as the barns are transformed into structures that can be used but still retain their original Appalachian architectural style. Other farmsteads showcase static barns and outbuildings, but the Smith Farm Heritage Farmstead offers dynamic usage while providing historical information about architectural trends and styles of the historic southern Appalachian barn.
THE HERITAGE AND COMMUNITY
Located in the heart of the western North Carolina mountains in rural Madison County, the Bailey Mountain Preserve with the Smith Farm Heritage Farmstead is a tribute to the strength of community and love of the local heritage. Members of the community came together (led by an effort of the Richard L. Hoffman Foundation) to make this a reality. The property is especially dear to Mars Hill as the ancestors played an important role in its history. Edward "Neddie" Carter donated a portion of his land to what would become part of the land of the future Mars Hill University.  And, a descendant– W.O. Connor– served as the first mayor of the town of Mars Hill. That commitment to community continues today. In addition to the Appalachian Barn Alliance's help with the barns, a volunteer group called The Friends of Bailey Mountain (CLICK HERE TO FIND THEM ON FACEBOOK) works to maintain the hiking trails and the plantings.