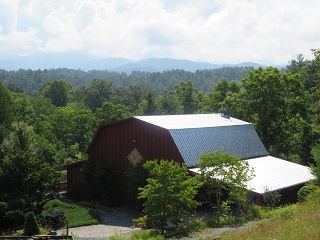 The sixth annual Madison County Barn Day on Saturday, May 18 begins with a tour (starting at 1:30pm) and continues at Steen's Barn (431 South Main Street in Mars Hill). It's a full event beginning with a guided tour of some of the local barns followed by food and background music by legendary fiddler Roger Howell. You will also have a chance to bid on some unique items in our silent auction.
Wear comfortable shoes for the tour when architect and history buff Taylor Barnhill will take his guests up to and then inside a few of the barns to point out many of the hidden clues that reveal the age and historical significance of the structure. Each stop on the tour will include time for a question-and-answer session. Our showcase barns (for those stops) this year include the Anderson Barns in Beech Glen, a popular stop with its history going back to pre-Civil War times.
Back at Steen's Barn, guests will be entertained –as only you can be in Madison County — by an award-winning local fiddler Roger Howell & Jerry Sutton. You will have an opportunity to look over some great items available in a small silent auction. Items include works by local artists, including an American flag made from tobacco sticks, a barn-themed stained glass piece, and a handcrafted Adirondack chair. The silent auction will give guests additional opportunities to pick up a set of Madison County books and a special "insider's" tour of Madison County by Taylor Barnhill– which covers natural history & music heritage among other topics, and a few other items.
Chupacabra will be back to provide a wonderful selection of their Latin-themed food from their restaurant in Woodfin. http://chupacabralatincafe.com/ One free drink comes with your ticket price.
Advance purchase of tickets is required and the price is $50 per person. Tickets will go on sale on May 1 for the general public. Appalachian Barn Alliance members will have an opportunity to purchase tickets beginning April 15 for a special price of $45 per person. (Member price is the same until sold out) Space on the tour is limited so make your reservations before they are sold out. If you just want to join us for the after-party, call for a special price for that part of the day. For information and reservations call  828 380-9146 or email info@appalachianbarns.org