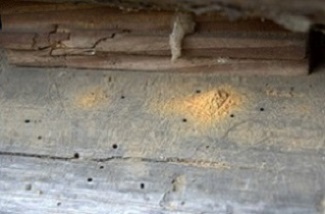 The Appalachian Barn Alliance has teamed up with the NC Cooperative Extension Service in Madison County to offer an educational workshop that will teach you how to diagnose and treat harmful wood-boring bugs that are destroying your barn and other buildings. Wood-boring insects are perhaps the greatest threat to the old barns and outbuildings that create the beautiful rural landscape of our mountain counties.
If you have noticed tiny holes and piles of yellowish dust on the wood timbers. This is caused by types of boring insects that fall under a general category of "powder-post beetles". Another insect that causes damage is the carpenter bee, which lays eggs that hatch into tunneling larvae, sometimes later excavated by hungry woodpeckers.
The workshop will be led by NC State's Integrated Pest Management Trainer, Patty Alder. Ms. Alder earned her master's degree from the Department of Entomology in 2004. She works in the College's new Structural Pest Management Training and Research Center. Her presentation will be supported by the Appalachian Barn Alliance's Taylor Barnhill, who is documenting the historic barn building traditions of Madison County.
The date is Saturday May 2, 2015, from 9:30am until Noon, at the Cooperative Extension Offices at 258 Carolina Lane, Marshall, NC. Cost of the workshop is $15, to be collected at the door. To register please call the Cooperative Extension Office at 828-649-2411.