On Sunday, August 13 at 3pm, Brian Gurl will return to Mars Hill for a benefit performance at Broyhill Chapel (338 Cascade Street in Mars Hill on the Mars Hill University campus).
Last year the audience was delighted by the performance of "Gershwin with a Twist!" This year Brian Gurl, pianist, arranger and vocalist extraordinaire, pairs up with renowned actress and vocalist Liz Aiello to celebrate a mosaic of Broadway favorites. Selections range from Rogers & Hammerstein to Andrew Lloyd Webber to George Gershwin and many more! Brian Gurl's exciting and dramatic musical arrangements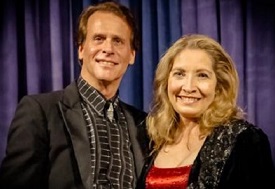 have garnered rave reviews from audiences nationwide -including from celebrity pianist Roger Williams. Liz Aiello has an extensive resume of theater performances and rave reviews from notable New York venues – including the Actors Repertory Theater – to multiple appearances for SART in Mars Hill. Together, Brian and Liz will captivate you with a delightful array of brilliant piano playing, soaring vocals and delectable duets.
Tickets are $20 or $25 for a reserved seat in the first two rows.  Email info@appalachianbarns.org or call Sandy at 828 380-9146 for tickets to be held at "Will Call" for pick up on the day of the performance.